Chandeliers have evolved from a simple wooden cross with candles into more complex designs. Crystal chandeliers are now being used as statement pieces in both modern and traditional houses worldwide. Despite the various shapes and sizes of chandeliers, the one commonality is the need for 'proper cleaning and maintenance", to keep them looking shiny and brand new.
Initially, learning how to clean a chandelier without damaging it may have looked like an overwhelming task, but there are a few quick and easy steps one can do, to attain.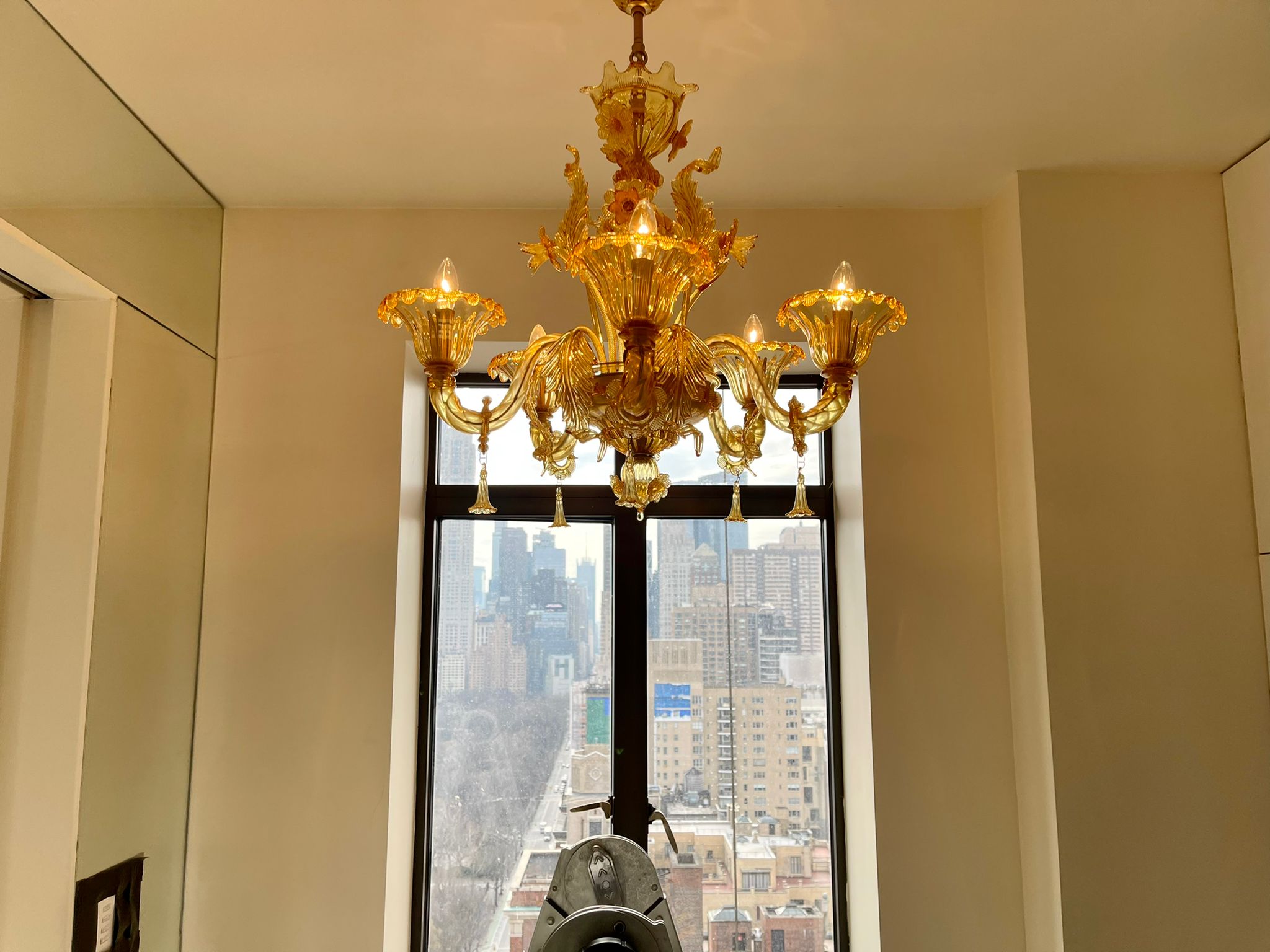 One may ask, how do I clean a crystal chandelier? Do I need special instructions or cleaning materials? Well, of coarse, with simple instructions, the right materials and a little elbow grease, you can have a sparkling chandelier in no time. However, before you start, you'll need to ensure that you switch off the circuit breaker for the chandelier.
"Luck runs out but safety is good for life"
LETS GET STARTED.
There are two methods applicable when cleaning a chandelier:
A. Cleaning the chandelier without removing it from its base.
B. Cleaning the chandelier after the parts have been disassembled.
Cleaning Chandelier Without Removing it from it's place.

This is the simpler of the two methods. Constant cleaning may prevent the chandelier from the dirt and grime buildups. Here are some tips to help the cleaning process go smoothly.
Turn off the chandelier. Put a piece of tape over the light switch to stop house members from accidentally turning it on while you're working. If required, set up another light as a substitute so you can see what you're doing.
Place a blanket on the floor, under the chandelier to catch any pieces that might fall and save them from breaking.
Make your cleaning solution by adding four parts of distilled water and one part of isopropyl alcohol.
Wear white cotton gloves to avoid transferring your fingerprints to the prisms while cleaning.
Take a microfiber cloth and spray your homemade cleaner onto it. Never spray directly onto the chandelier.
Lastly, wipe each crystal piece gently with the damp cloth. Then, to avoid water spots, clean it up with a lint-free, dry cloth immediately.
Cleaning the chandelier after it has been disassembled.
With this method, the cleaning procedure remains the same, apart from disassembling each part of the crystal prisms before washing. This lets you reach every nook and cranny of the frame. One way to properly reattach each part is to rely on an image or notes you would have taken before you disassembled the chandelier.
Lest you forget..
Clarke's Service Professionals will fulfill your chandelier cleaning desires, despite the size, shape/design or placement in your home. Let's help to achieve the look you have envisioned for those crystals in your ceiling. Clarke's Service Professionals is an all-inclusive solution to every home & building maintenance needs in New Jersey & New York. Take some time off, sit back, get some other stuff done around the home, while we offer the best service yet..
Learn more about our Chandelier Cleaning Services here.