Chandeliers are truly a work of art that accentuate the luxuriousness of a house. They are the dazzling masterpieces that never fail to awe people entering your house for the first time. However, maintaining and keeping their shine upright might break a sweat. When the dust particles accumulate on the crystals, they lose their shine and sparkle. We will share some tips and tricks in this post to help you maintain your chandelier like a pro and make it look as stunning as it did on the day you bought it.
5 Must-Follow Chandelier Maintenance Tips
Follow the below-mentioned maintenance tips to let your chandelier be the eye-catching centerpiece in your house for an unforeseen number of years.
#1: Know How to Handle Your Chandelier
Because the chandeliers have intricate details and possess a fragile nature, it will work best if you uncover the right way to clean and manage them. Each type and size of chandelier has its own way of being maintained; know which way suits the chandelier in your house best.
If your chandelier is newly purchased, then the supplier will share with you essential handling and cleaning tips for the chandelier. However, for an inherited chandelier, you may contact experts or professionals to learn the righteous maintenance method.
#2: Deep Clean Once Annually
A thorough cleaning of the chandelier at least once a year is a must. Most crystal chandelier manufacturers recommend cleaning the chandelier once a year so that the shine of its material and crystals remains intact. Here's what the cleaning process involves:
Take out all the crystal strands and prisms carefully.
Manually wash each part with lukewarm water and mild detergent, and then give it a bath under clean water.
Dry each object using a microfiber towel.
Gently clean the frame, arms, bulbs, and any other non-crystal components of the chandelier.
Wear cotton gloves to put each piece of crystal back in its original place.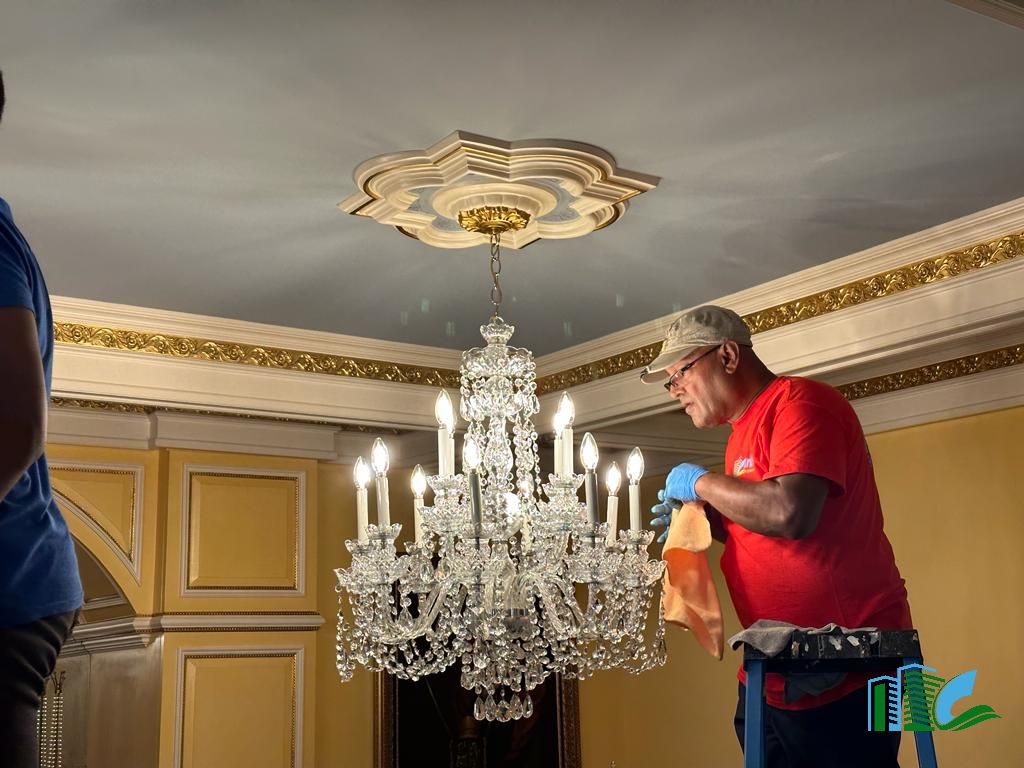 #3: Do dusting weekly.
Let the dust not become a permanent resident on your chandelier for too long. To avoid dust buildup, you must run a dry duster over the chandelier when doing your weekly dusting routine in your house.
Note: If you prefer using any solution post-dry dusting, then never spray it directly onto the chandelier. It might ruin the frame and make it prone to corrosion.
#4: Periodic Inspection
Inspecting the chandelier periodically will take you one step closer to enhancing its longevity and beauty. The inspection means looking out for broken pieces, loose wires, nuts and bolts, or lights not functioning properly. It would barely take more than 15 minutes to attend to the health of your chandelier, and you can easily do it yourself or look out for professionals.
Expert Tips for Cleaning Chandeliers Effectively
Here are some tips to make your chandelier's maintenance effortless:
Gather Cleaning Supplies in One Place: Make sure you keep all the materials handy so that you can clean efficiently.
Turn off The Power: Before you begin cleaning, make sure to turn off the power supply to avoid any accidents and ensure your safety.
Divide the Cleaning Process: Do not jump straight into cleaning; first divide the tasks. You may begin with cleaning the crystals and then move on to cleaning the metal.
To Wrap Up
Let your chandelier highlight the elegance of your house by maintaining it properly. Maintaining it may seem like a daunting task, but by taking good care of your chandelier, you can uplift the beauty of your house.
Remember, it's a huge investment, and you ought to take proper care of it if you want your abode to look awestruck. Follow the tips and tricks shared in this post and take the instruction guides from professional cleaners or chandelier distributors to keep it looking stunning.